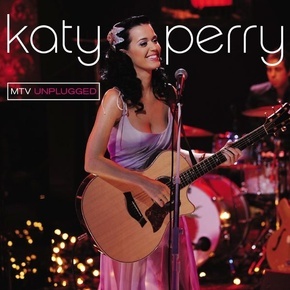 Before I start getting heckled, I just had to clarify that, yes this is Katy Perry, and that her unplugged was brilliant. I am speaking on a completely objective basis (although I fucking love her as a pop star anyways), but this performance affirms my belief that Katy Perry is a decent singer-songwriter, and more importantly, a musician. First off, I absolutely loved the way how all her soulless mega pop hit songs are arranged in an intimate acoustic manner. Everything seems to be on point, the guitar, the bass, the drums, to a certain extent; it is a very professional yet raw sound. I believe that presentation is everything in music, and Katy Perry presents 7 songs, and they are an extremely enjoyable listen. "I Kissed a Girl" jazz style never sounded so damn good.
Another important thing was her voice. I feel as if Katy Perry has finally found her place, as her voice sounds absolutely fantastic in this small intimate setting. So don't give me that bullshit that she can't sing, because she sounds soulful.
Either way, if she could move her career to doing shows like these, I'd be down.
Stream Katy Perry's Unplugged performance
&